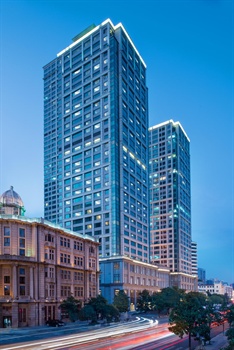 The Marco Polo Wuhan (Mage Boluo Jiudian) is ideally situated at the edge of an urban riverfront park with panoramic views of the Yangtze River. It is only a 30-minute drive from Wuhan Tianhe Airport.
All rooms are equipped with modern business amenities including broadband Internet access, luxurious bathrooms, in-room safes and state-of-the-art audio-visual systems.
The Marco Polo Ballroom, Silk Room and 9 multifunction rooms can accommodate up to 800 people and provide the ideal venue for corporate meetings and glittering social events.
Marco Polo's signature restaurant, Café Marco, boasts an open kitchen and features an Asian International buffet and à la carte menu. The Verandah is a great place to enjoy specialty coffees, teas and light snacks while overlooking the Yangtze River. Shangdu Tao Yuan Chinese Restaurant offers genuine Cantonese cuisine, served in the main restaurant and 4 exclusive private dining rooms.
The recreational complex includes an indoor swimming pool, Jacuzzi and fitness center.